Example
Convert "0100100001101001" to text.
1. Seperate Binary String into 8-bit
As you can see there are two sets of binary codes in the above string.
Firstly, we will separate it into eight bits or digits. In addition, 8-bits or digits represent one letter in binary. You can skip this step if you are converting only 1 byte or one set of binary code(i.e. 10001001).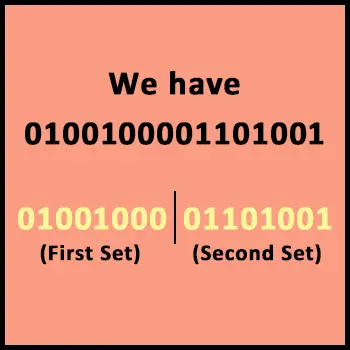 After seperation, we have two binary codes "01001000" and "01101001".
Now let's figure out 01001000 first.
2. Convert Binary to Decimal
To convert binary code into a decimal, we need to use the power of two. To make it easy, let's write the binary figure on board and assign power of 2 to each digit. It starts at 20 to 27.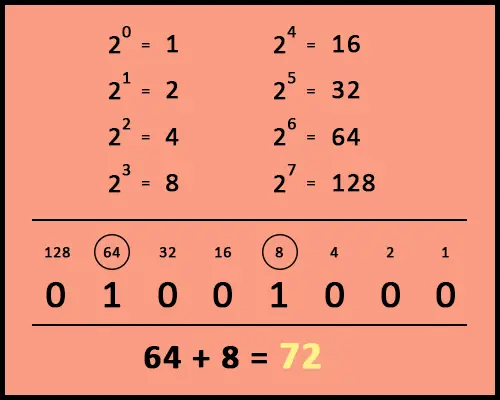 Now, wherever we encounter 1 we take that number as the power of two and sum up the results. In this case, we encounter 1 at 3 and 6.
Hence, 26 + 23 = 64 + 8 = 72.
72 is the decimal equivalent of 01001000.
3. Find Character from ASCII Table
Now, look for 72 in the ASCII table. You will find that the ASCII value of 72 is H. Therefore, 01001000 is actually H.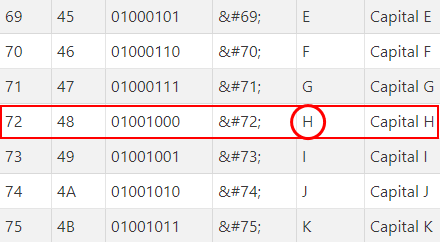 4. Contunue with Next String
Our next string is 01101001. Its conversion will look like this: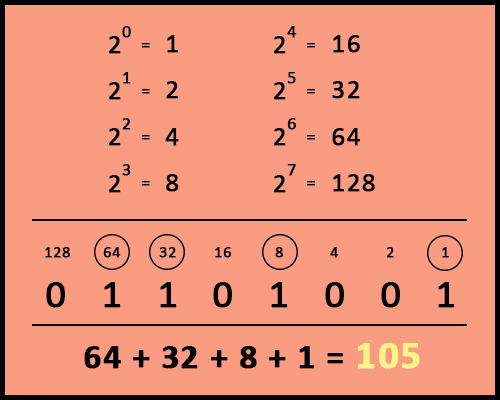 Now we will check the character value of 105 in the ASCII table. As you can see below we get "i".

Lastly, join both the output letters and text result = "Hi".
The same process is applied for long binary codes. This is the first conversion method that you can use to convert binary into English.